Bjørn Kløve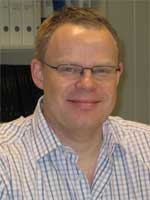 Laboratory Director, Professor
D.Sc.(Tech.)

tel.ext. +358 (0)294 484510
int. 48 4510
gsm. +358-(0)40 594 4514
email: bjorn.klove(at)oulu.fi
office: PR346

Research interests :
hydrology of boreal systems
tracer hydroogy
peatland hydrology
peat hydraulic properties
sediment transport
groundwater hydrology
groundwater dependent ecosystems
groundwater directive
environmental impacts of peat harvesting
water pollution control
treatment wetlands
diffuse loading, land use and water quality
reactive soil filters in wastewater treatment
removal processes for nitrogen and phosphoprous
modelling
watershed and river restoration
Integrated watershed management
peak runoff retention for flood protection and water quality improvement
environmental impacts of peatland drainage
mining effluents, treatment and water pollution control
Hobbies :
sports regularly in moderate portions
nature, cottage life and travelling
Selected publications:
Marttila, H. Kløve. B. 2009. Retention of sediment and nutrient loads with peak runoff control. Journal of Irrigation and Drainage Engineering, 135 (2), 210–216.
Marttila, H. and Kløve. B. Erosion and deposition of peat sediment. Water Resources Research, 44.
Ronkanen, A.-K. & Kløve, B. Hydraulic and flow modelling of water treatment wetlands constructed on peatlands in Northern Finland. Water Research, 2008, Volume 42, Issue 14, 3826-3836.
Ronkanen, A.-K. & Kløve, B. Use of stabile isotopes and tracers to detect preferential flow patterns in a peatland treating municipal wastewater.
Journal of Hydrology, 2007, Volume 347, Issue 3-4, 418-429.
Kværner, J. and Kløve. B. 2006. Tracing sources of summer streamflow in boreal headwaters using isotopic signatures and water geochemical components. Journal of Hydrology 331, 186-204.
Søvik, A.K. Augustin, J. Heikkinen, K. Huttunen, J.T. Necki, J.M. Karjalainen, S.M. Kløve, B. Liikanen, A. Mander, Ü. Puustinen, M. Teiter, S. Wachniew, P. 2006. Emission of the Greenhouse Gases N2O and CH4 from Constructed Wetlands in Europe. Journal of Environmental Quality 35, 2360-2373.
Kløve, B. Xu, S. Lindahl, A. Wörman, A. and Søvik, A. K. 2005. A study of K variability and its effect on solute transport in subsurface-flow sand filters by measurement and modelling. Journal of Environmental Science and Health Vol.40, No.6-7, 1123-1132.
Kløve, B. Søvik, A. K. and Holtan-Hartwig, L. 2005. Analysis of nitrogen removal processes in a sub-surface flow carbonate sand filter treating municipal wastewater. Journal of Environmental Science and Health Vol.40, No.6-7, 1381-1401.
Kløve, B. 2001. Characteristics of nitrogen and phosphorus loads in peat mining wastewater. Water Research 35 (10): 2353-2362
Kløve, B. 1998, Erosion and sediment delivery from peat mines. Soil & Tillage Research 45: 199-216.
Kløve, B. 1997. Comparison of different water pollution control methods in decreasing sediment load from peat mines. Boreal Environment Research 2:199-207.
Staff
Professors
> Bjørn Kløve,
lab director
> Kauko Kujala

Senior researchers
> Anna-Kaisa Ronkanen,
university lecturer
> Jarmo Sallanko,
lab.engineer
PostDoc
> Hannu Marttila
researcher
University Teacher
> Anne Tuomela

PhD candidates
> Pertti Ala-aho
> Ali Torabi Haghighi
> Ehsan Hassani Nezhad Gashti
> Elisangela Heiderscheidt
> Masoud Irannezhad
> Pirkko Mustamo
> Shähram Mohämmädighävam
> Heini Postila
> Pekka Rossi
> Tuomas Saarinen
> Simo Tammela
> Tapio Tuukkanen

External PhD candidates
Hannu Aurinko
Soile Backnäs
Satu Maaria Karjalainen
Minna Koivula

Laboratory technicians
> Tuomo Pitkänen
> Leila Polus
> Tuomo Reinikka
> Paavo Vehkomäki
Docents
Raimo Ihme
> Jarmo Sallanko