Current projects

---

Phosphorus transport processes and modelling in Finnish forested till soil
Researcher
Soile Saastamoinen
Supervisor
Professor Björn Köve
Abstract

Forest management practices change the nutrient balance in soil and increase the leaching of nutrients to surface waters. In Finland, forest management is the main source of nutrient loading in several small head waters and also in some larger basins in Eastern and Northern part of the country. Therefore empirical research is needed to be able to assess the role of forested areas in nutrient loading.

The main purposes of my research are:

to determine the geological, physical and hydraulic properties of soil that affect the adsorption, desorption and transport of phosphorus in Finnish, forested till soil, and
to assess, how preferential flow and changes in hydrological conditions in soil affect the transport, species and mobility of phosphorus.

Based on a variety of measurements and experiments, a 3D model will be developed to describe these processes in the scale of a hill slope. Field experiments and modelling are carried out in co-operation with researcher Hanne Laine from Helsinki University of Technology.

Cooperation partners
Helsinki University of Technology
Finnish Forest Research Institute
Geological Survey of Finland

Funding
Maa- ja vesitekniikan tuki ry
Kone Foundation
Finnish Cultural Foundation
Oulu University Scholarship Foundation


Picture: Satu Putkinen, GTK


Picture: Hanne Laine, TKK
---
Adsorptive materials in landfill structures

Researcher: M.Sc.Tech Minna Koivula
Supervising researcher: Docent Kauko Kujala
Financers/supporters: Vapo Oy, Kone foundation
Key words: Landfill, adsorption, diffusion, heavy metals, peat
The landfill structures are currently designed using the hydraulic properties of the construction materials. However, adsorptive materials can be utilized both in hydraulic barrier layers and the drainage layers to optimize landfill's operation. The adsorptive materials can minimize the pollution risk, save construction materials and make the construction more cost-effective.

Migration parameters are needed to design the landfill layers properly. The most important parameters are adsorption and diffusion coefficients. These are examined in laboratory by batch type and column tests. The results can be utilized in modelling and later on in actual structures.

Landfill bottom layer structure
The study concentrates in pollutants that can be found in industrial and mining waste, polluted soil and hazardous waste. Most important are different kinds of (heavy) metals. Also organic pollutants such as trichloroethylene and creosote are being used in this study.

Both natural and waste materials have been used as adsorptive materials. Peat and clay have been studied as natural adsorptive barrier materials and granulated steel slag is being studied as a drainage layer material.
---
Sustainable use of ground water and ground water pumping in dynamic environment
Researcher: Jarkko Okkonen

Supervisor: Björn Klöve

The goal of this research is find new methods to estimate sustainable use of groundwater. We are also improving measurement techniques to evaluate the bulk water movement in eskers, and the interactions between surface water bodies and the groundwater.

Oulun Vesi Oy, Pudasjärven vesiosuuskunta, Vesi-ja viemärilaitos yhdistys, r.y., K.H. Renlundin säätiö, Maa- ja Vesitekniikan tuki r.y


Picture: Seismic survey in ground water area in central Finland
---
Development of small sewage plant

Researchers: Esko Lakso, Jarmo Sallanko.
Funded by: Greenrock, 2006 – 2009
---
Treatability of humic groundwaters

Researches: Jarmo Sallanko, Jutta Rönqvist
Funded by: Lappavesi Oy, Waterworks of Kyrönjokilaakso, Vest Finland environment center, Waterworks of Liminka, Waterworks of Kempele, Maa- ja Vesitekniikan tuki, 2007-2008.
---

Management of forestry drained catchments: Effects of Runoff Water Retention on Erosion, Flood Risks and Water Quality

PhD Researcher: Hannu Marttila
Funded by: KIRSU-Doctoral School (Academy of Finland), Ministry of Agriculture and Forestry, Thule-institute, Tor and Maj Nessling-, Tauno Tönning-, and TES – foundations and North Ostrobothnia and Central Finland Regional Environmental Centres and Maa- ja vesitekniikan tuki ry.
Supervisor: Professor Björn Klöve

Key words: hydrology of forestry peatlands, catchment and stream restoration, stream hydraulics, erosion and sediment transport, runoff retention, soil physics and hydraulics, tracer hydrology, methods for on-line measurement.

In Finland, ecologically valuable small headwaters and catchments have been strongly altered by forestry drainage. This has caused changes to catchment hydrology and sediment loads to streams. Hence there is a strong and growing interest for sustainable management and restoration of previously modified watercources and catchments. The objective of the research is to study the effects of runoff water retention on water quality, erosion and flood risks in the peatland watersheds and headwaters with several methods
The research will focus on:
hydraulic and function of runoff water retention structures
possibilities for temporally storage capacity of runoff water in the ditched catchments
erosion, transport and deposition of sediments and nutrients in forestry drained catchments
inflow prediction and flow retention in a drained forestry catchments
development of restoration criteria
improving in-situ and continuous measuring techniques

Pictures: Hannu Marttila OYO, Juha Jämsen Metsäkeskus
The research includes field measurements and modelling to study the effects. Different type of structures will be tested and their effect of water flow and sediment transport measured. In the laboratory characteristics of erosion, hydraulics of restoration structures and soil hydrology are measured.

More information from the studies under following links:
http://www.ymparisto.fi/default.asp?node=19106&lan=fi
http://thule.oulu.fi/projects/brooks.html
http://www.mmm.fi/attachments/5iZtS7eiJ/5j137bL4f/Files/CurrentFile/
Integrated_water_protection_and_flood_control_in_peatland_forestry.doc
Co-operate: North Ostrobothnia and Central Finland Regional Environment Centers, Finnish Environment Institute, Metsähallitus, Central Finland Forestry Centre (metsäkeskus), Finnish Forest Research Institute (Metla), Northern-Central Finland Learning Center (Poke).
---
Study of flow and sediment transport through measurements and 2D modeling for river restoration planning
PhD Researched: Simo Tammela
Supervisor Professor Björn Klöve
Funded by: Ministry of Agriculture and Forestry, Thule-institute, Tor and Maj Nessling foundation and North Ostrobothnia Regional Environmental Centre
Key words: flow modeling, river restoration, sediment transport, spawning gravel
Finnish forest brooks and rivers have been straightened and dredged as part of peatland and forest ditching and for log floating until 1980's. This has caused increased flood peaks, decreased minimum flow and increased erosion and sedimentation. Increased sedimentation decreases biodiversity including spawning grounds of migratory fishes.
The research focus on the use of 2D flow modeling as a tool in river restoration planning and in spawning gravel stability and clogging research. Also flow and sediment processes are studied to better understand how restoration structures should be designed. The results can be used to improve restoration methods by more stable spawning grounds and increased biodiversity.
---

Sedimentation and flow studies in small headwater forest streams, funded by Thule 2006-2008

Researchers Björn Klöve, Hannu Marttila, Simo Tammela, Heini Postila.
---

Sediment transport and flow retention in stream restoration, funded by Northern Ostrobothnia Regional Environmental centre 2006-2008.
Researchers Björn Klöve, Hannu Marttila, Simo Tammela.
---

Erosion and Transport of Sediments in Forestry Dredged Small Headwater Streams: Hydraulic Criteria for Restoration, funded by Tor and Maj Nessling foundation 2006-2008.
Researchers Björn Klöve, Hannu Marttila, Simo Tammela, Heini Postila.
---

Integrated water protection and flood control in peatland forestry: effects of runoff water retention, wetlands and floodplain forests on water quality and flood risks, funded by Ministry of Forestry and Agriculture, Maa- ja vesitekniikan tuki r.y, KIRSU doctoral school, Metsähallitus, Central Finland Regional Environmental Centre, 2006-2009.

Researchers Björn Klöve, Hannu Marttila, Simo Tammela, Heini Postila.
---
Optimization of filtration in Oulu waterworks

Researcher - Jukka-Heikki Iivari
Responsible - Jarmo Sallanko
Partner in cooperation - Oulu waterworks
In this project the target is to find out if it is reasonable to change the filtration system after flotation in Oulu waterworks. The study include the possibilities of use limestone in filters and the effects of the change in the quality of treated water, the economy of the plant and the effects to the active coal filters.
---
Treatment of humic groundwater
Researcher – Jutta Rönqvist
Responsible - Jarmo Sallanko
Partner in cooperation – Lappavesi Oy, Finnish water and waste water works association, Kyronjokilaakson Vesi Oy, West Finland environment center, Liminka waterworks, Kempele waterworks.
In this research there is defined the effectivity of settling and flotation in removal of impurities of groundwater. Also the use of manganesediokside coated sand in filtration is study. Reseach about the effect of chemichal characteristiks of groundwater to the oxidation and separation process of iron and manganese are also one intrest.
---
Optimisation of extractable soil resources in Vasikkasuo
Researcher – Antti Runtti
Responsible - Jarmo Sallanko
Partner in cooperation – Viherrengas Järvenpää Oy
The wise use of extractable soil resources in Vasikkasuo and conceted environmental impacts.
---
Development of small wastewater systems
Researcher – Jarmo Sallanko / Esko Lakso
Responsible – Jarmo Sallanko / Esko Lakso
Partner in cooperation – GreeRock Oy, Talokaivo Oy, Plastweld Oy, TEKES
Development of small wastewater systems and related pilot tests.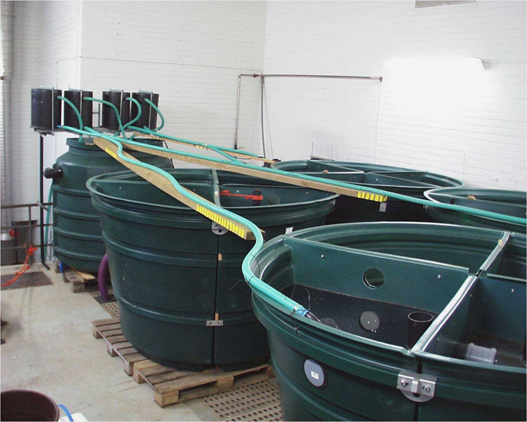 The testing place for small wastewater plants in Hollihaka, Oulu.
---
The use of coldcrystallisation in wastewater polishing
Researcher – Kirsi Haanpää /Jarmo Sallanko
Responsible - Jarmo Sallanko
Partner in cooperation – Energy and water cooperative of Kuusamo, SnowSecure, TEKES
In this study the potential use of coldcrystallisation for secondary/tertiary treatment is investigated.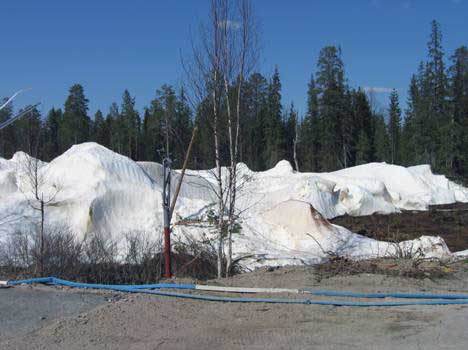 Snow made from treated wastewater in Ruka, Kuusamo.
---

Ultra filtration system used in wastewater quality studies.
---
Researcher: Kauko Kujala
There are many subprojects to research the tailings from mining industry: e.g. cover structure of sulfide tailings areas in closed mines, using and optimization of materials in the cover structures of closing tailings areas, utilization of tailings in earth construction, and technical properties of tailings in new mines e.g. for planning the tailings impoundments. Also modeling the transportation of harmful substances in bottom structures and placing the cover material are related to the topic.
---
---
Sorption properties of steel slag
Researchers: Eero Hanski (Department of Geology), Kauko Kujala, Paavo Perämäki (Department of Chemistry)
Eutrophication of the waters is mainly due to nutrients (especially nitrogen and phosphorus) migrating from agriculture and scattered settlement to the waters. During last ten years there has been active purpose worldwide to find environmental friendly materials, which could effectively adsorb phosphorus from wastewaters. The European iron and steel industry produces annually ca. 45 million tons of metallurgical slags, of which 37% and 41% are utilized in cement production and road construction, respectively. Over the past ten years, much research has been devoted to potential environmental applications of slags due to their favourable (ad)sorptive properties.
According to studies steel industry slags have good sorption properties. This project studies experimentally the interaction between steel industry slags and water-dissolved phosphorus. The aim of the project is to determine the slag type, which has the best sorption ability of phosphorus. Thereafter factors affecting to sorption (such as pH, Eh) are studied in detail and the total sorption capacity is defined by column tests. In addition is the aim to study the suitability of the slags for sorption of other oxygen-anions or cations.
---
Comparison on mineral barrier material in landfill bottom structure
Researches: Hannu Aurinko, Kauko Kujala
Finnish legislation concerning waste management has been guided by several EU directives, which have been transferred into the national legislative framework by a set of decisions and decrees issued by government bodies. In the EU landfill directive, the term geological barrier is applied when assessing the soil conditions of a landfill site. A geological barrier is defined by the geological and hydrogeological conditions of a landfill site, and whether the circumstances are adequate con­cerning the potential risks of soil and ground water pollution.
If there is no geological barrier, it is replaced with a built compaction layer, in which is used many different mineral materials, such as clay, bentonite and asphalt. The aim of the study is to determine whether the hydraulic conductivities of mineral material are comparable between or not and of different factors affecting relatively to result of hydraulic conductivity experiment. This project also aims to clarify the planning process of bottom and surface structures.
---
Function and cover of seeping tailings areas applied to Hitura nickel mine

Researcher: Pia Sassi-Päkkilä
The aim of this research is to observe the physical function of old, thin soil layer covered tailings areas and based on the results to design an optimal soil cover to Hitura mine's tailings area
---