---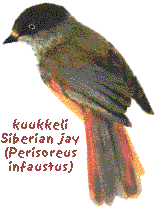 is definitely familiar if you have for example been trekking in Lapland. It's very curious to know what you are 'having for lunch' in a break. This brown-red-greyish bird is also called the northern Finland's jay. Siberian jay is our smallest crow bird, during nesting time it is hiding but in the summer it is very curious and almost half tame, the lucky bird of the Sami people.
As a omnivorous bird it will certainly check all break places after hiker in order to find crumbs. It is a resident bird so it won't migrate away for winter.
The distribution of siberian jay is limited to Northern Finland. It's also the province bird of the Kainuu province and it lives in the old spruce forests. Siberian jay hides its nest in a tall spruce and starts nesting already in March. The dam broods its eggs despite of the possible snowstorms and lively fledglings can be seen already in May - June.
Siberian jay has many names given by folks and it's also a bird of many beliefs. It's quite poor singer, it meows, screeches and squeaks so it's the troll of the forest. Germans have called it the bad luck jay, so in the north it brings luck and the opposite in the south.
---
Willow grouse is mainly northern bird but lives also in the southern parts of the Central Finland. It has been very important for Lapps as food and as a source of income, and still is. It used to be 'the fourth money' in Lapland. The fluctuation of grouse population is common. In year 2009 discussed in Finland about the restriction of hunting time of grouse, like in Norway.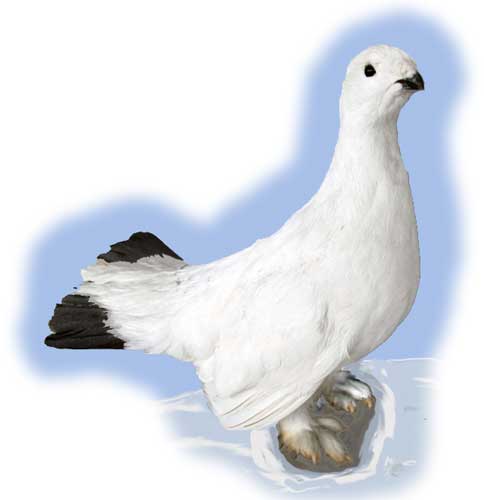 The yipping laughter of willow grouse can startle when you hear it for the first time, but more experienced hiker is anxious to hear it. In the courtship the male willow grouse grunts peacefully and the female meows back.
During the wintertime willow grouse has a white 'snow outfit' despite the black edg

e feathers of the tail, so it's very difficult to see in the snow. The feather layer in the winter is very effective against the cold, a real fur. Even legs are covered with feathers. In the summer willow grouse is mostly red-brownish only wings and stomach are white. Its track in the snow is very good distinctive mark. In the winter it sleeps under the snow cover, there can be tens of them in the same place. In April couples find their own territories. Willow grouse is monogamous.
See: population fluctuation of willow grouse!
.Willow grouse - like Ptarmigan - is well adapted to norhern conditions.
Ptarmigan reminds a lot of willow grouse. It lives in the uppermost parts of fells, mainly in rocky places.